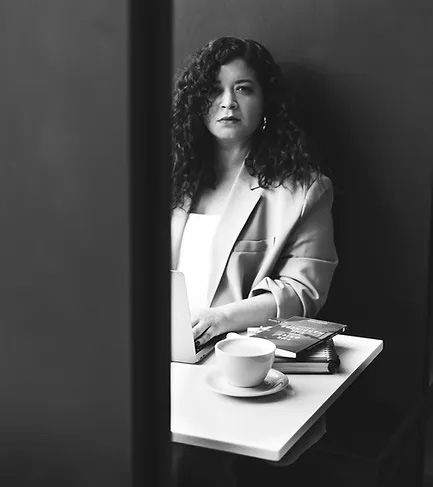 Photo by Ashley Reed
(In) The Comfort Zone: Nancy Empowers Denver's BIPOC Writing Community
Nancy Viera is a multi-hyphenated artist, book author, and cultural worker with an energetic dedication to serve her community. Viera writes both in English and Spanish and is an Ofrendas Facilitator with the Latino Cultural Arts Center. Her work has been showcased at the Denver Art Museum.

KW: Nancy, I met you by email when you sent me an invitation to read out of the blue with a group of writers at Tattered Cover. I was so impressed with the event and with your obvious passion for the writing community. Tell us a bit about yourself.

NV: I was born in California and raised in Chihuahua, Mexico for half of my childhood. My family relocated to Aurora, Colorado when I was eleven years old. An immigrant experience is important to my writing, my identity. My love for writing began with the stories of Isabel Allende and Gabriel Garcia Marquez and, as of late, the work of Kali Fajardo-Anstine. My memoir, The Grief and the Happiness, is about the death of my son's father and how life has been for us since losing him to an accidental overdose caused by untreated Post-traumatic stress disorder from being years in a war zone. Currently, I am writing a magical realism novel that pays homage to my hometown in Mexico where magical powers defeat the drug cartels that infest the town. My two poetry collections, Silhouette and Chicago and You, focus on identity and empowerment through the lens of a person of color. I published these through De Colores Publishing, my pandemic project. I am self-taught in the publishing world and grateful for YouTubers and all the research it took me to learn how to self-publish. My intention is to sign authors of diverse backgrounds to publish with my press.
KW: You just feel like a natural community organizer. Tell us about the community of writers you've found in Denver and how you are contributing to that community.
NV: Since publishing my memoir, I found an inspiring community of writers. "Pandemic" writing became my refuge from the headlines of doom. I joined virtual open mic events on the audio-only app Quilt and virtual workshops with the Poetry Lab in Los Angeles. Such safe spaces spread my wings. I went to more author events, met award winning writers like Colorado Poet Laureate Bobby LeFebre and Aurora Poet Laureate Ahja Fox, Jovan Mays and Ralonda Simmons, Manuel Aragon, and Steven Dunn.
The universe aligned when Tattered Cover Bookstore's Director of Events, Adam Vitcavage, approached me at Kali Fajardo-Anstine's Woman of Light book launch. We quickly connected. He asked me to curate and host a quarterly local writer showcase with full freedom to design the showcase. It's named City Silhouettes, after my book, Silhouette. (I also host Silhouettes: a poetry podcast. )That first night, nine talented writers showcased their gifts and, in my eyes, set the tone of the Denver literary scene: Dominique Gordon, Brian AS Byrdsong, Charlene Frazier-Flores, the Poet Q. The room was full of inspiration. Even if publishers don't always represent the diversity of talent out there, our writing community knows how to show up and show out. I want to build more spaces that give this community the same recognition as non-BIPOC communities. The next showcase is January 20th, 2023 with Ahja Fox, John Hallsies, Hillary Leftwitch and Johana Godinez, to name a few. The space is open; I welcome anyone who wants to be part of it to reach out to me.
I strongly believe that community spaces is how we change the dynamic of the literary world. I like collaborating with writers who have not had a space to be showcased in yet and I like communities like Counterpath, Lighthouse Writers, and The Word, which are very open and inviting. All this inspires me as does Suzi Q Smith, who leads a lot of inclusive events that serve as examples of what should exist for all writers. Let's step out of our comfort zones. It is empowering to empower others!